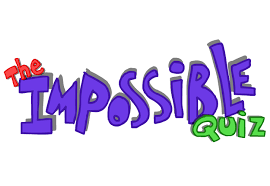 The Impossible Quiz is a quiz which sounds impossible. There 110 questions in the quiz. To pass the quiz, answer all the 110 questions. Some of the questions aren't even questions. The creator of the game is Splapp-Me-Do.
Other Quizzes
Edit
The Impossible Quiz Demo
The Impossible Quiz 2
The Impossible Quiz Book
Every 10 questions, you are awarded with a skip. Using a skip will a skip a question and move on to the next question. You can get up to 7 skips.
Do not use any skips, because you need to keep your skips for the last questions to insert your skips in the question.
Answers / Solutions
Edit
To see all the solutions for all the 100 + 10 questions, click here.